Buildings Changes in Response to Climate Change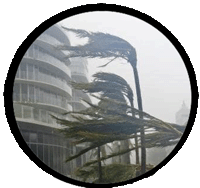 Per ClimateCentral.org, an independent organization of leading scientists and journalists, atmospheric CO2 levels have surpassed 400 PPM for the first time in human history. As a result, planetary temperatures are now averaging 1.5 degrees Celsius above preindustrial levels, which is approaching a level that will set off runaway climate destabilization.
The effects are already being felt globally. Countries poor and rich alike have been plagued with more frequent hurricanes and storms due to excess moisture generated by global warming, causing some island nations to literally drown. Additionally, record droughts, wildfires, snowstorms and cold snaps are affecting the world's food supplies.
As the realities of climate change have become more apparent, many in the architecture, engineering and construction (AEC) industries are looking for new ways to make our buildings and infrastructure more ecologically sustainable, thus reducing the greenhouse gases (GHG) emitted into the air. Others are implementing more resilient construction practices.
As you may know, the objective of resilient design is to protect against the impact of extreme weather such as flooding, overheating, and power outages. The ultimate goal is to enable livable conditions through deteriorating or even devastating circumstances.
An example of deploying resiliency measures is the Spaulding Rehabilitation Hospital in Boston, which is built 30 inches above the 500-year flood elevation, and which uses bio-swales and a granite berm to prevent flooding.
Best AEC Practices
There are many additional steps ACE professionals can take to protect buildings and people from the impact of severe weather. For example, an additional way to make buildings more resilient to water damage involves ensuring that electrical systems and emergency generators have flood barriers that can be deployed to prevent ground-floor penetrations of flood waters. If possible, it's also best to locate mechanical and electrical equipment at an elevated area above a reasonably-expected flood level.
To protect buildings from the severe wind storms that are becoming more frequent at all times of the year, some regions are reworking their building codes to include such things as impact-resistant windows or exterior shutters, and outward-opening doors that are less likely to be pushed inward by intense winds. Designing walls to resist uplift using hurricane strapping and other metal fasteners that provide a continuous load path from foundation to roof has also become more common, as has designing them to resist shear and lateral forces. In some areas, roof geometries are also being designed to be less prone to wind damage.
Daylighting the interior of a building is another popular option, as it reduces a building's reliance of fossil fuels and, therefore, makes the structure less vulnerable to power outages or fuel shortages. Operable windows will also reduce the days in which buildings need to be mechanically ventilated and cooled.
In areas with a higher risk of wildfires, specific measures can be taken to reduce the risk of losing an entire structure. For example, in a Class A roof construction, roof design should not include dormers, valleys, or other architectural features that can hold debris that could later ignite. Installing high-performance tempered windows that have a better chance of withstanding the heat is another good option, as they can prevent fire from entering the building. Using noncombustible siding, such as fiber-cement siding, three coat stucco or brick ae good choices for exteriors, and regular maintenance of the area surrounding structures is a simple yet crucial way to reduce the impact of a wildfire. This might include keeping dry grasses, brush and dead leaves at least 30 feet from a structure; selecting drought-tolerant, high-moisture content plants; and pruning trees to maintain at least 10 feet of clearance between branches and the roof. Finally, maintaining firefighter access around the building is a must.