Composite Pavers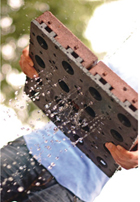 More production equals more waste, more waste creates environmental concerns both, in air quality as well as on our land and in our water sources.
We all know that a small but important partial solution to this problem is the reutilization of our waste products.
Recycling of waste materials saves natural resources, energy, reduces solid waste at the landfills and helps to reduce greenhouse gases.
The construction industry must always strive to reduce our contribution to the waste issue and utilize Green Products and methods when possible in the construction of new facilities.
A Good Example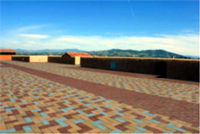 One such Green Product is composite pavers, which come in a diverse range of colors, sizes and shapes.
Composite pavers offer important advantages over the traditional brick or concrete paver.
Product Performance: Composite pavers are one-third the weight of concrete pavers.

Environmentally Friendly: Every 25,000 square feet of pavers diverts 7000 tires or 200,000 plastic gallon containers from landfills.

LEED Credits: The use of composite pavers versus concrete or brick pavers adds points to LEED Certification on a building.

Design Flexibility: Since composite pavers are much lighter in weight they can be utilized to provide a large patio area on flat roof tops, which will then provide additional living space for building tenants.

Installation: Simplified, composite pavers use a fabricated rubber mat that they lock into; thereby guaranteeing an even spacing. The layout mats keep the paver off the roofing material and provides a way for water to flow freely to a drain system.