In Honor of Earth Day: Another Way of Helping Mother Earth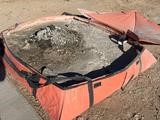 Washout Stations on construction sites are a crucial part in meeting EPA standards during a project. The washout stations consolidate solids for easier disposal and prevent runoff of liquids. The wash water is alkaline and contains high levels of chromium, which can leach into the ground and contaminate groundwater. It can also migrate to a storm drain, which can increase the pH of area waters and harm aquatic life
As a contractor, you have important responsibilities for protecting plants, animals, people and waterways from concrete waste and other wash water from such things as paint, plaster, drywall and other toxic slurries.
Why does it matter?
Many construction products contain heavy metals and significant amounts of sediment; it is highly alkaline and corrosive.

For these reasons and more, concrete and other materials can have a significant negative impact on fish and other aquatic organisms. Exposure to concrete can also affect groundwater quality, stream pH, tree growth, and other elements of a healthy environment.
How to keep construction site washed waste out of local waterways:
Keep the washout area at least 50 feet from streets, storm drains, open ditches and streams.
Contain the disposal to keep slurry from flowing down slope.
Use washout area only for cleaning of chutes, tools and equipment.
Types of Washout Stations:
Steel bin
Roll-off washout (more costly and are difficult for pump trucks to maneuver onto)
Do it yourself - straw bale with plastic liner
Portable prefabricated
Once the slurry has dried and the water has evaporated, the solids should be safely put in a dumpster. In addition, there are polymer-based powders that will more-quickly harden the slurry making it EPA compliant and ready for the landfill.
The EPA wants to keep this stuff off and out of the ground and has been issuing fines as high as $11,000 per day per project for improper disposal.

Not only is a fine harmful to a contractors' bottom line, but anyone who sees a project that looks like a mess naturally will wonder if that sloppiness reflects the standard of the over-all workmanship.
---