Northeast Economic Commercial Construction Trends for 2017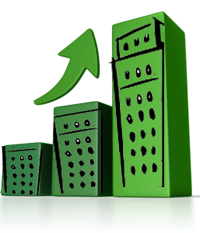 Data from the NH Employment Security Department indicates that construction will be New Hampshire's fastest-growing industry over the next 15 months, adding 1,155 jobs or 4.5% of current employment.
According to the US Construction Report for 2017, the Northeast and the West will experience the largest growth this year, with both regions gaining over 8%.
In our immediate area, Massachusetts is forecasted to grow 3%, Maine with a growth of 8% and New Hampshire a projected growth of 13%.
This growth will encompass:
Single-family homes at 12%; multi-family at 3%
Institutional & commercial construction at 7%
Non-building at 2%
It is expected that the Real GDP growth will be 2.2%, the unemployment rate will further improve to 4.8%, and inflation will increase by 2.3% this year across the U.S.
Construction Cost Forecast: After 2% growth in 2016, overall construction costs are forecasted for ongoing growth in the 2-3% range during 2017.
Construction labor wages will increase 3-4%
Construction materials will increase 2-3%
Construction Employment: There were 6.6M construction industry employees in the U.S. in August 2016, which is 82% of its peak. In 2016, the unemployment rate for the construction industry nationwide fell to 5.1% (higher than that of NH at 4.5%). However, with this growth in the industry there is a negative side; firms are facing ongoing and growing struggles to fill open positions. These unfilled positions in the construction industry are a threat to the industry's growth.
Individual firms are trying to overcome obstacles in finding and hiring qualified labor by:
Focusing and investing in technology and on-going training programs for staff
Investing in current and prospective employees by making salary and benefit improvements
Promoting the construction industry to younger people via social media as well as through schools
Promoting vocational and apprentice programs
Safer Jobsites have also been the trend. This, of course, is very good news as safety has a direct effect on the economics of construction, both at the project and individual levels.
To emphasize the importance of safer jobsites, OSHA increased their financial penalties for violations last year. Too many people view OSHA as the evil BIG BROTHER; whether they are right or wrong, a strong OSHA presence is necessary. Without OSHA so many more work-related injuries and deaths could occur. In 2015 the Census of Fatal Occupational Injuries had construction as the leading industry for worker deaths at 937. The four leading causes of worker deaths are: falls, being struck by an object, electrocution and getting caught in or between objects.
This accountability and focus on safety seems to have had a positive impact on the trend, as in 2016 there was a decline in construction worker fatalities, which fell to 740.