September is National Preparedness Month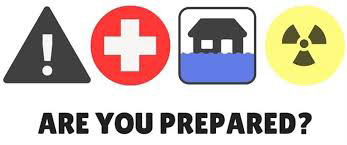 How prepared are you both personally and professionally?
National Preparedness Month was introduced by the Federal Emergency Management Agency (FEMA) in 2004. It is a specific time of year when Americans are encouraged to take steps to prepare for emergencies in their homes, businesses, schools and communities. The national preparedness architecture encompasses prevention, protection, response and recovery efforts to prepare the US for all hazards Ė whether terrorist attacks or natural disasters such as Hurricane Dorian.
Important Preparedness Steps for Households
In 2016 a national household survey revealed that more than 75% of those surveyed did not have supplies set aside in their homes for disaster, and less than 50% had a household emergency plan. This plan should include establishing a centralized meeting place for family members incase of separation, as well as an emergency medical supply kit with notes of medications needed for each family member. For those of with pets, the plann should note provisions for them too.
Being informed about the different emergencies that may affect your family and community as well as training on how to deal with these emergencies is important. For more details, you might consult FEMA's Are You Ready guide in preparedness.
Important Preparedness Steps for Businesses and Organizations
How quickly a company is able to get back to business after any kind of emergency is crucial. According to the SBA, many lack such a plan, and an estimated 25 percent donít open again after a major disaster!
Every business is vulnerable to different threats depending on location, size and industry. These can include natural disasters like tornadoes and floods, or snowstorms that can knock out power for days. A flood can disrupt transportation and equipment; cyber, attacks, data breaches, equipment malfunctions and server failure are common as well.
Business leaders should determine which threats are most plausible, identify which would have the greatest impact, and then develop a plan to tackle them should they occur.
Smart planning can help you keep your business running or enable a quicker restart if disaster strikes. To be effective, the plan should be actionable, well-organized and detailed. A great example is FEMAís emergency action plan template.
Mitigation
If youíre wondering about specific steps you might take to enhance your personal or business preparedness level, mitigation includes such activities as:
Complying with or exceeding flood plain management regulations.
Enforcing stringent building codes, flood-proofing requirements, seismic design standards and wind-bracing requirements for new construction or repairing existing buildings.
Adopting zoning ordinances that steer development away from areas subject to flooding, storm surge or coastal erosion.
Retrofitting public buildings to withstand hurricane-strength winds or ground shaking.
Acquiring damaged homes or businesses in flood-prone areas and returning the property to open space, wetlands or recreational use.
Mitigation also involves a broad spectrum of players outside the traditional emergency management circle. Among others, these parties might include land use planners, construction and building officials (both public and private), business owners, insurance companies, community leaders, politicians and individual home owners.
Blood Donations
Along with disasters comes a greater need for blood. Please if you can, donate blood to the American Red Cross as frequently as you can!