Crystalline Silica Compliance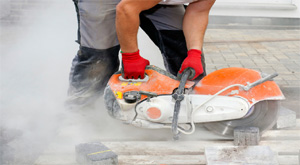 The Occupational Safety and Health Administration (OSHA) has issued a Final Rule to protect workers from exposure to respirable crystalline silica. Enforcement for the construction industry will begin on September 23, 2017. If your company is affected, are you ready?
Crystalline silica is a mineral that is found in materials that we see every day in roads, buildings and sidewalks. It is a common component of sand, stone, rock, concrete, brick and mortar. Exposure to the dust from silica occurs in normal workplace operations involving cutting, sawing, grinding, drilling and crushing of concrete and stone products. Officials have been aware of the dangers of silica for decades. OSHA's current permissible exposure limits (PEL) are more than 40 years old. Strong evidence shows that the current exposure limits do not adequately protect the health of workers. Anyone who inhales the very small crystalline silica particles is at increased risk of developing serious – and sometimes deadly – diseases. The tiny particles can get into workers' lungs and cause silicosis, an incurable lung disease. Exposure also increases risk of lung cancer, other respiratory or pulmonary diseases and kidney disease.
Within the Final Rule, OSHA is issuing two standards to protect workers – one for construction, and the other for general industry and maritime. The new standards affect various industries in different ways, so they have set different compliance deadline schedules, although the standards have technically been in effect since June 23, 2016. For the construction industry, the original enforcement date was June 23, 2017. However, OSHA delayed enforcement until September 23, 2017 in order to conduct additional outreach and provide educational materials and guidance for employers. The current enforcement date for general industry, maritime and hydraulic fracturing is June 23, 2018 (except engineering controls which has a deadline of June 23, 2021).
Key requirements of the Final Rule include:
Reducing the PEL for respirable crystalline silica to 50 micrograms per cubic meter of air, averaged over an 8-hour shift
Requiring employers to comply with the following:

Use of engineering controls, such as water or ventilation, to limit worker exposure to the PEL
Providing respirators when engineering controls can't adequately limit exposure
Limiting worker access to high exposure areas
Developing and implementing a written exposure control plan
Offering medical exams every three years to highly exposed employees
Training workers on silica risks and how to limit exposure
Keeping records of workers' silica exposure and medical exams
The construction standard provides flexible options for compliance. Employers can either use a control method provided in OSHA's Table 1 for Controlling Silica Exposure based on the task employees are performing, or they can measure workers' exposure to silica through air monitoring and decide which dust control methods work best to limit exposures to the permissible limits in their workplaces. Employers who follow the requirements in Table 1 fully and completely will not have to do air monitoring and will be assumed to be below the permissible exposure limit.
Additional information on OSHA's silica rule can be found at: osha.gov/silica.