Spring Safety Tips: Slippery When Wet!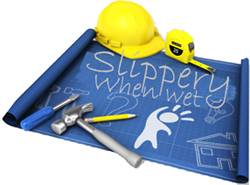 Spring is truly a season of transition.
The earth is thawing from months of cold winter chill, snow is melting, the sun is warmer and spring rains are frequent.
And this all creates slick, slippery and potentially dangerous working conditions for workers and other personnel who have access to jobsites.
Mentally, we are all enjoying the warmer temperatures and tend to dismiss the lurking dangers of these slippery conditions unless it is pouring. Even a short 15 minute shower can cause slip and fall hazards that compromise worker safety. The following are a few other conditions affected by rain storms:
Protective Gear – employees need to have appropriate rain coats and waterproof footwear. If they are working near moving water they need to wear a flotation device.

Protect Workers from Cold Stress – Like heat stress, cold stress can creep up on an employee quickly, especially when wet. Employees should wear layers of clothing, and provide a break area out of wind and rain.

Worker Visibility – Each worker needs to wear at ALL TIMES a high visibility reflective outwear vest.

Surfaces from walkway and roofs to scaffolding and the wet ground surrounding trenches with additional moisture need to be navigated with more caution.

Lightning Strikes – rain and thunderstorms increases the chances of lightning strikes, so workers should be kept away from cranes, exposed steel framework and other equipment or building features that can act as lightning rods.

Maintain a Clear View – visibility is critical for a safe working environment. Just a few drops on an employee's safety goggles are enough to compromise clear visibility. Safety goggles should be cleaned or wiped down with anti-fogging sprays or wipes before employees head outside.

Equipment Use – equipment that is used outdoors needs to be rated for outdoor use and if conditions are wet make sure tools with non-slip handles.

Motion – We all have a tendency to move as fast as possible in inclement weather so we can get back inside. Unfortunately this is frequently counterproductive to safe result. It is better to slow down and complete the task safely than not at all due to injury.