Construction Guidelines
for Buying American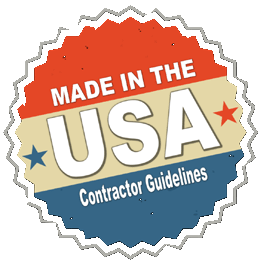 While there are many reasons as Americans we should buy products manufactured in our own country, there are additional reasons for some construction contractors to do so.
Contractors who perform work for the government must be aware of their obligations of the Buy American Act (BAA) and the other statutes that relate to it. The BAA, enacted in 1933, mandates that construction companies with government contracts use domestic "construction materials."
A domestic construction material is an unmanufactured product mined or produced in the U.S., or a manufactured item where domestic components make up 50% of the cost of the item. A contractor that violates the BAA can face penalties including large fines, adjustments in contract price or termination for default.
The Buy American Act generally applies when the federal government is directly buying products or materials or a federal building or facility is being newly constructed or receiving major renovations. The act requires that at least 51% of the components of the final product be produced in the U.S.
Other domestic preference statutes, known as Little Buy American Acts, may require a higher domestic content requirement on purchases that are covered by the BAA. The majority of these acts govern purchases not directly made by a federal entity, but which use federal dollars.
One of the most commonly known of these acts is called Buy America (not to be confused with the original act called Buy American) and generally applies to state and local government projects. This statute usually requires 100% of the components of materials to be made in America, unless the provisions of the Buy American Act are referenced.
There are a few exceptions to abiding to the BAA, which include
Purchases under $3,000
Public interest as determined by the head of the agency
Non-availability of domestic sources
Unreasonable cost
The requirements of the BAA were also altered significantly when Congress passed the Trade Agreements Act (TAA) in 1979. The TAA grants the authority to waive the BAA requirements for certain purchases if they're acquired from a "qualifying country." The list of designated countries can be found here: gsa.federalschedules.com.
Purchases from non-designated countries are limited to the current threshold of $204,000 per transaction, although some countries elect to set the threshold lower.